A.S Diamantboring Unicon New company in the BIG groupe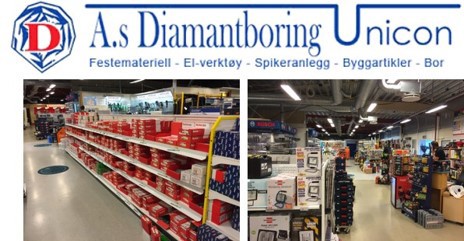 We are pleased to announce that Diamantboring Unicon in Fredikstad has chosen to become a partner in the BIG group  from July 6 st, 2016 and we wish them a warm welcome.
AS Diamantboring Unicon was founded in 1989, has 10 employees. Their facilities are 800 m2 large, and is centrally located in Gressvik.
In the trade store can you find tools, consumables and industrial goods, machinery, personal protective equipment and workwear.
Diamantboring Unicon sell to professional customers in the construction sector, demolition and remediation industry, industrial sector, public sector, to workshops, construction sites etc.
Their goals and vision is that they should be the leading supplier in their product ranges in their local market.
They have a high level of expert knowledge that is constantly updated. They strive to always have a high service level and to meet all their customer's requirements and needs and at the same time be cost effective both for themselves and for their customers. Without compromising on quality!